Ladies and Kids Kickboxing Classes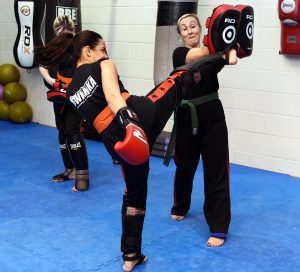 Why choose Kickboxing?
Starting from four years of age, our Kids Kickboxing and Martial Arts programmes in Cardiff encourage fast progression in a positive and safe environment. Our kids, Junior and Teens Classes introduce a structured, fun, technical curriculum to ensure both interest and whole life fitness is continuously stimulated and improved.
At we help build self-discipline and develop self-confidence – helping your child to overcome shyness and insecurity. The classes provide a friendly personal training service aimed at getting kids fit and healthy together through a variety of fun innovative kickboxing workouts
classes include a wide variety of exercise from Warm-up, Skipping, shadow boxing, basic and advanced punch combinations, heavy bag workout, focus mitts, slipping and rolling, partner drills, abs and core work. Working through a syllabus for each belt grading.
Kickboxing is enjoyed by millions of people around the world.
You will also have the option to take regular gradings and work your way to that coveted black belt, should you choose!
Kids Kickboxing Classes Tuesday and Thursday 5.45pm at Dragon Crossfit in Cardiff.
Ladies Only Kickboxing takes place on Tuesday 7.00pm and Thursday 7.00pm at Dragon Crossfit in Cardiff.
For more information – and to book your place  – click here to get in touch TODAY!