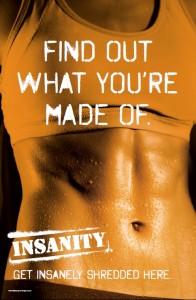 Want to get fitter, faster? Then the new Insanity classes with Jason Orchard Fitness could be for you.
The cardio-based, total-body conditioning programme is based on 'max interval training', supposedly a faster way of burning calories.
Traditional HIIT workouts, which can burn up to 750 calories in 45 minutes, feature short bursts of maximum intensity with longer periods of rest. But Insanity flips that formula upside-down by combining lengthier periods of high intensity exercise with shorter cool downs.
Read more: http://www.dailymail.co.uk/femail/article-2575752/Want-burn-1-000-calories-just-45-mins-Cult-exercise-class-Intensity-just-launched-UK-Femail-tried-out.html#ixzz3AmQZcIcX
Follow us: @MailOnline on Twitter | DailyMail on Facebook